Hopi Pot Acquisition
--News--
Posted:  Apr 16, 2018 - 12:00am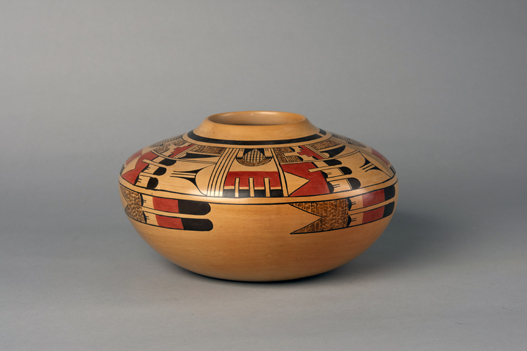 Ortiz Center donates contemporary polychrome pot by award-winning Hopi potter Karen Kahe Charley to the Maxwell Museum.
With Ortiz Center funds, Director and Maxwell Museum Curator of Ethnology Lea McChesney purchased this Hopi polychrome pottery large jar by Karen Kahe Charley at the Second Intergenerational Hopi Pottery Festival in Polacca, Arizona on July 14, 2018.  The festival is a collaboration among the Hopi Cultural Preservation Office, the Smithsonian Institution's Recovering Voices Program, and UNM's Alfonso Ortiz Center.
Made in spring 2018, the jar is inspired by a pot made by the famous Hopi-Tewa potter Nampeyo that is featured in the Hopi Pottery Workbook, vol. I, April 2017, of the Department of Anthropology, National Museum of Natural History, Smithsonian Institution. The volume was issued for the First Intergenerational Hopi Pottery Festival, held at the Third Mesa Veterans' Memorial Center, Kykotsmovi, AZ on April 29, 2017, and funded in part by the Ortiz Center.
Karen Charley is from Sitsomovi, AZ and a member of the Butterfly-Badger clan, which is known locally for its pottery.  A principal in the Hopi Pottery Oral History Project, she and Lea McChesney have been collaborating in research, publication, and public presentations for over twenty years.