From the Director
Greetings from the Ortiz Center Director: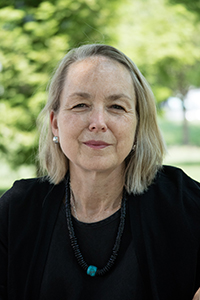 I am honored to assume the directorship of the Alfonso Ortiz Center for Intercultural Studies. A relatively new member of the campus community, I follow in the footsteps of UNM's luminaries preceding me. With gratitude I thank past Director Beverly Singer for her guidance and encouragement, and Les Field, Anthropology Department Chair, Dave Phillips, Maxwell Museum Interim Director, and Arts and Sciences Dean Mark Peceny for their unwavering support in this new position.
Although I never had the pleasure to meet or work with Alfonso Ortiz, his work provided a guiding presence in my graduate training. He inspired me to think differently about human experience and to respect diverse perspectives on human endeavors. Practicing public anthropology for several decades as a museum anthropologist, the invitation to continue the Center's work, while honoring his legacy, presents a rare opportunity and significant challenge in today's world.
Beginning with Dr. Singer's leadership as previous director, the Maxwell Museum, Department of Anthropology, Ortiz Center, and the Tlowitis Nation of British Columbia, Canada undertook a collaboration to restore the Smith Family Totem Pole, culminating in the pole's blessing by nine Kwakwaka'wakw representatives on September 16, 2017. I have been privileged to further the Ortiz Center's role in this collaboration, providing multiple opportunities for tribal leadership and artists to reside at UNM in 2016-2017 in undertaking it. The Center continues to support this ongoing project on campus and in ways that benefit the Tlowitsis Nation. We have begun new fundraising efforts to raise a replica of the pole in the Nation's new community in British Columbia.
In fostering its mission of academic outreach through equitable partnerships and collaborative programs, the Ortiz Center seeks to engage community specialists and intellectuals, on and off campus, to widen how we understand and engage with the world through the lens of public anthropology. The inaugural Smith Family Totem Pole collaboration introduces additional programming from the Center with the theme of "conversations on collaboration." Please continue to explore our website and learn of our other engagements around with this theme.
Thank you for visiting the Ortiz Center's website. Please return often to learn about our programs, and join us here on the UNM campus and in the communities we reach.
With warm wishes,
Lea S. McChesney