Second Intergenerational Hopi Pottery Festival
--Event--
Start Date: Jul 14, 2018 - 10:00am
End Date: Jul 14, 2018 - 04:00pm
Location: First Mesa Youth Center Polacca, AZ
The 2nd Annual Intergenerational Hopi Pottery Festival was held from 10:00 am to 4:00 pm on Saturday, July 14, 2018 at the First Mesa Youth Center in Polacca, AZ. Nearly a dozen potters from the community participated in a collective demonstration of pottery making; others had booths to sell their work. The demonstration included a firing at potter Larson Goldtooth's home in Polacca. Activities included T-shirt making (with prizes awarded for age groups and design styles) and door prizes. The three-part program included a presentation on the Smithsonian's Recovering Voices Program by its Director, Gwyn Isaac; a presentation of her community fieldwork with Hopi potters in the 1990s by Maxwell Curator and Ortiz Center Director Lea McChesney; a presentation on the status of plans for a new Hopi museum and cultural center by Gloria Lomahaftewa of the Hopi Cultural Presentation Office; and a talking circle where potters engaged in conversation about Hopi pottery with the audience. Project members Gwyn Isaac, Lea McChesney, Hopi Casareno, Klint Ericson, and Gloria Lomahaftewa convened with the potters in a community meeting at the Hopi Cultural Center restaurant on October 20, 2018 to plan the Third Intergenerational Hopi Pottery Festival for fall 2019, as well as to plan a forthcoming trip for the potters to view the Hopi pottery collections at the National Museum of Natural History in the near future.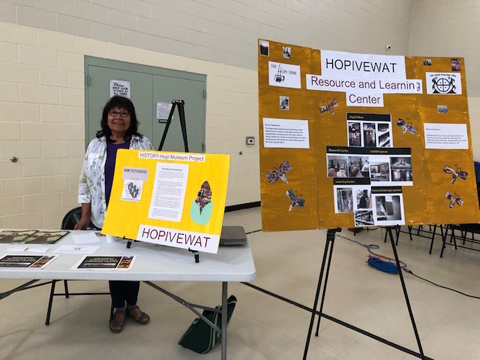 Gloria Lomahaftewa of the Hopi Cultural Preservation Office presents information on the Hopi Museum Project.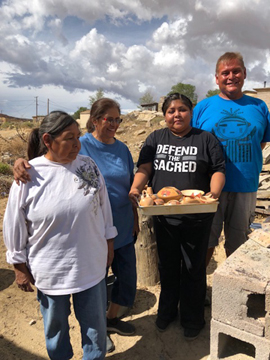 Successful firing by Hopi potters, left to right: Fawn Navasie, Darlene James, Lenise Garcia, Larson Goldtooth.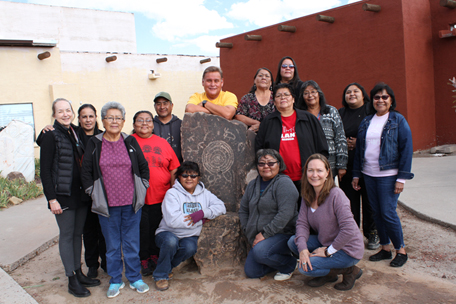 Community Planning Meeting Participants for the
Third Intergenerational Hopi Pottery Festival
October 20, 2018
           (left to right) Lea McChesney, Hope Casareno, Emmaline Naha, Dorothy Ami, Emerson Ami, Larson Goldtooth, Nona Naha, Valerie Kahe (rear), Cheryl Lomakema, Karen Kahe Charley, Louden Silas, Gloria Lomahaftewa.  Kneeling: DeLaine Tootsie Chee, Bernadette Pohleahla-Crook, Gwyneira Isaac