The Annual Alfonso Ortiz Lecture
--Event--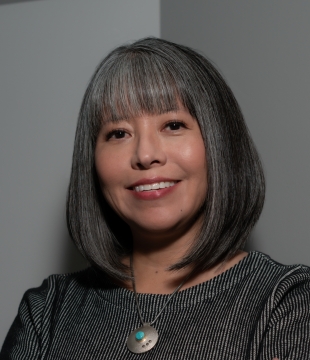 Start Date: Apr 28, 2022 - 07:30pm
Location: Anthropology Lecture Hall 163
The Annual Alfonso Ortiz Lecture
Featuring Dr. Cynthia Chavez Lamar
The UNM Alfonso Ortiz Center for Intercultural Studies will be launching the Annual Alfonso Ortiz Lecture series by hosting the visit of Dr. Cynthia Chavez Lamar, Director of the Smithsonian Institution's National Museum of the American Indian (NMAI), to the UNM campus on April 28 and 29, 2022. An enrolled member of San Felipe Pueblo, with Hopi, Tewa and Navajo ancestry, Dr. Chavez Lamar was named the third director of the NMAI in January of this year. She is the first Native woman to direct a Smithsonian Museum. Dr. Chavez Lamar earned her doctorate in American Studies from UNM, with an MA in Native American Studies from UCLA and bachelor's in Studio Art from Colorado College.
Dr. Chavez Lamar served on the Advisory Board of UNM's Alfonso Ortiz Center for Intercultural Studies in the early 2000s. Her work and career exemplify the vision of the Center, which was founded in 2000 as a partnership of the Maxwell Museum and Department of Anthropology. Created in honor of the late Alfonso Ortiz, UNM anthropology professor, MacArthur Fellow, and native of Okhay Owingeh Pueblo, the mission of the Ortiz Center is to "create enduring partnerships and collaborations that address community driven priorities through public facing anthropology and humanities initiatives."
Dr. Chavez Lamar's visit to UNM is co-sponsored by the UNM Maxwell Museum of Anthropology, Department of Anthropology, American Studies, Native American Studies, Indigenous Nations Library Program, Institute for American Indian Research, El Centro de la Raza, and the Center for the Southwest.