Dr. Chavez Lamar visit to UNM
--Event--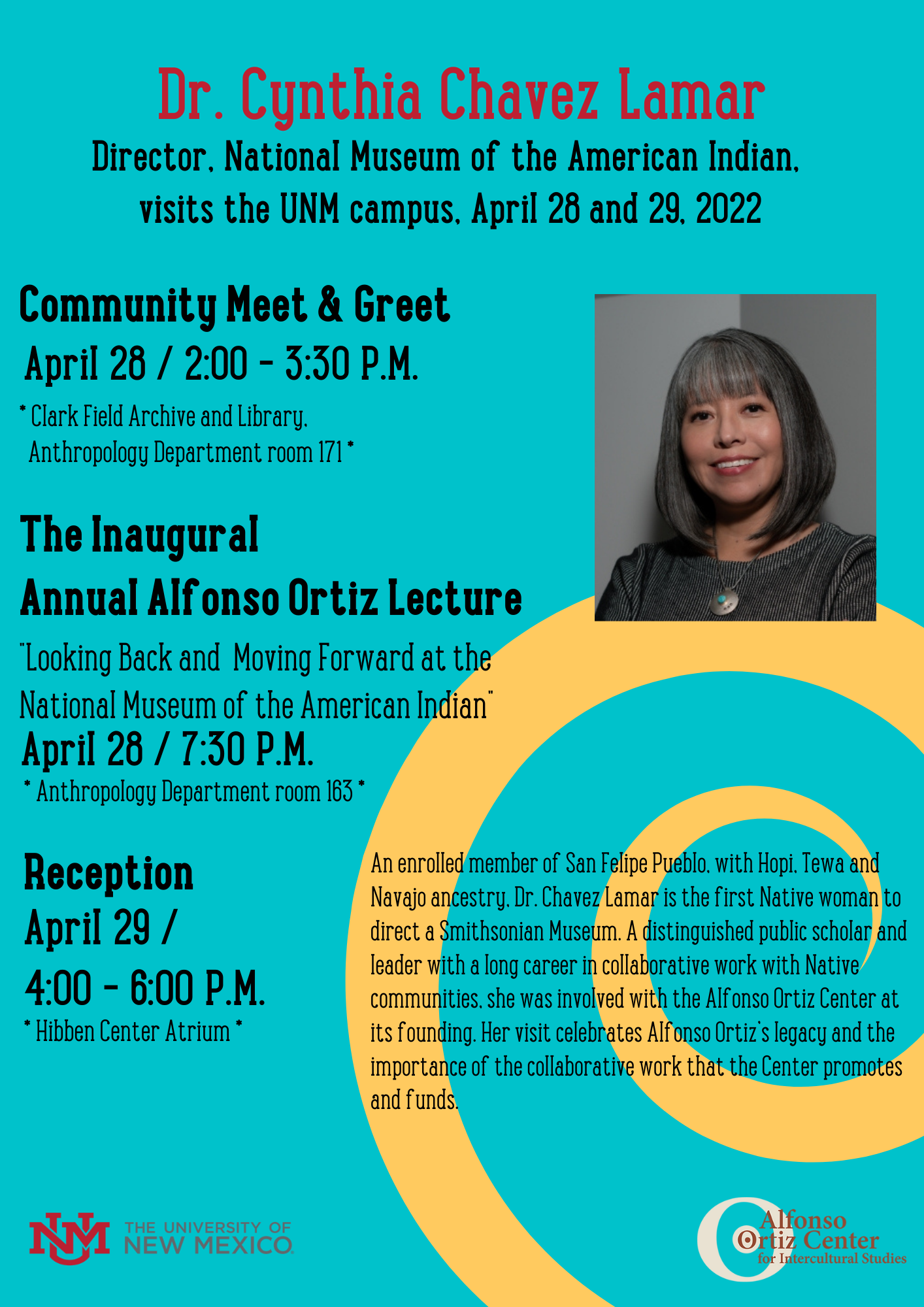 Start Date: Apr 28, 2022 - 02:00pm
Location: UNM Campus
The Alfonso Ortiz Center for Intercultural Studies is pleased to launch the Inaugural Annual Alfonso Ortiz Lecture by hosting the visit of Dr. Cynthia Chavez Lamar, Director of the National Museum of the American Indian (NMAI), to the UNM campus on April 28 and 29, 2022. 
An enrolled member of San Felipe Pueblo, with Hopi, Tewa and Navajo ancestry, Dr. Chavez Lamar was named the third director of the NMAI in January of this year. She is the first Native woman to direct a Smithsonian Museum. A distinguished public scholar and leader with a long career in collaborative work with Native communities, Dr. Chavez Lamar was involved with the Center at its founding. Her visit celebrates Alfonso Ortiz's legacy and the importance of the collaborative work that the Center promotes and funds. 
The Alfonso Ortiz Center strives "to create enduring partnerships through collaborations that address community-driven priorities in public-facing anthropology and humanities programs." The Center achieves its mission by creating and supporting opportunities for diverse, collaborative, community-inspired cultural initiatives and activities in the humanities and public anthropology. 
We are excited to bring Dr. Chavez Lamar back to the UNM campus and invite you to join the following events (all free and open to the public). 
Community Meet and Greet 
Clark Field Archive Library 
Department of Anthropology Room 171 
The Inaugural Annual Alfonso Ortiz Lecture 
"Looking Back and Moving Forward at the National Museum of the American Indian"   
Department of Anthropology  
Hosted in partnership with the Maxwell Museum of Anthropology, Anthropology Department, American Studies Department, Native American Studies Department, Indigenous Nations Library Program, Institute for American Indian Research, El Centro de la Raza, and Center for the Southwest.