Building Peace in Colombia: Women and Struggles for an Anti-Patriarchal World
--Event--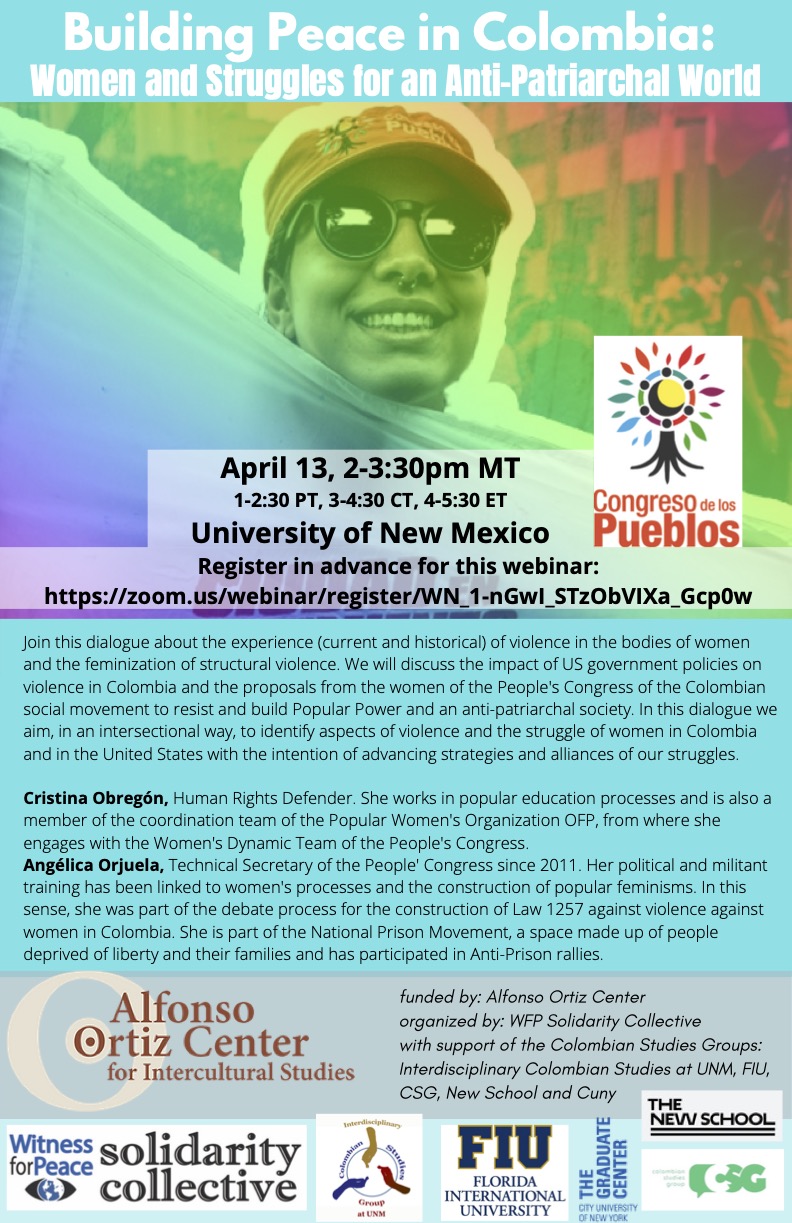 Start Date: Apr 13, 2021 - 02:00pm
The Interdisciplinary Colombian Studies Group at UNM is pleased to invite the public to:
BUILDING PEACE IN COLOMBIA: Women and Struggles for an Anti-Patriarchal World
April 13th, 2021
2-3:30 pm MT/ 3-4:30 pm CT
Register in advance at: https://zoom.us/webinar/register/WN_1-nGwI_STzObVIXa_Gcp0w
Join this dialogue about the experience (current and historical) of violence in the bodies of women and the feminization of structural violence. We will discuss the impact of US government policies on violence in Colombia and the proposals from the women of the Congreso de los Pueblos  (People's Congress) of the Colombian social movement to resist and build Popular Power and an anti-patriarchal society. In this dialogue we aim, in an intersectional way, to identify aspects of violence and the struggle of women in Colombia and in the United States with the intention of advancing articulations and alliances of our struggles.
Presenters:
Cristina Obregón, Human Rights Defender. She works in popular education processes and is also a member of the coordination team of the Popular Women's Organization OFP, from where she engages with the Women's Dynamic Team of the People's Congress.

Angélica Orjuela, Technical Secretary of the People' Congress since 2011. Her political and militant training has been linked to women's processes and the construction of popular feminisms. In this sense, she was part of the debate process for the construction of Law 1257 against violence against women in Colombia. She is part of the National Prison Movement, a space made up of people deprived of liberty and their families and has participated in Anti-Prison rallies. 
This talk is made possible by a grant from the Alfonso Ortiz Center for Intercultural Studies at University of New Mexico and is part of the Human Rights Virtual Tours organized by the Witness for Peace Solidarity Collective. 
Supported by the Colombian Studies Groups at University of New Mexico, Florida International University, The New School, and The Graduate Center City University of New York.