20th Annual American Indian Studies Association Conference
--Event--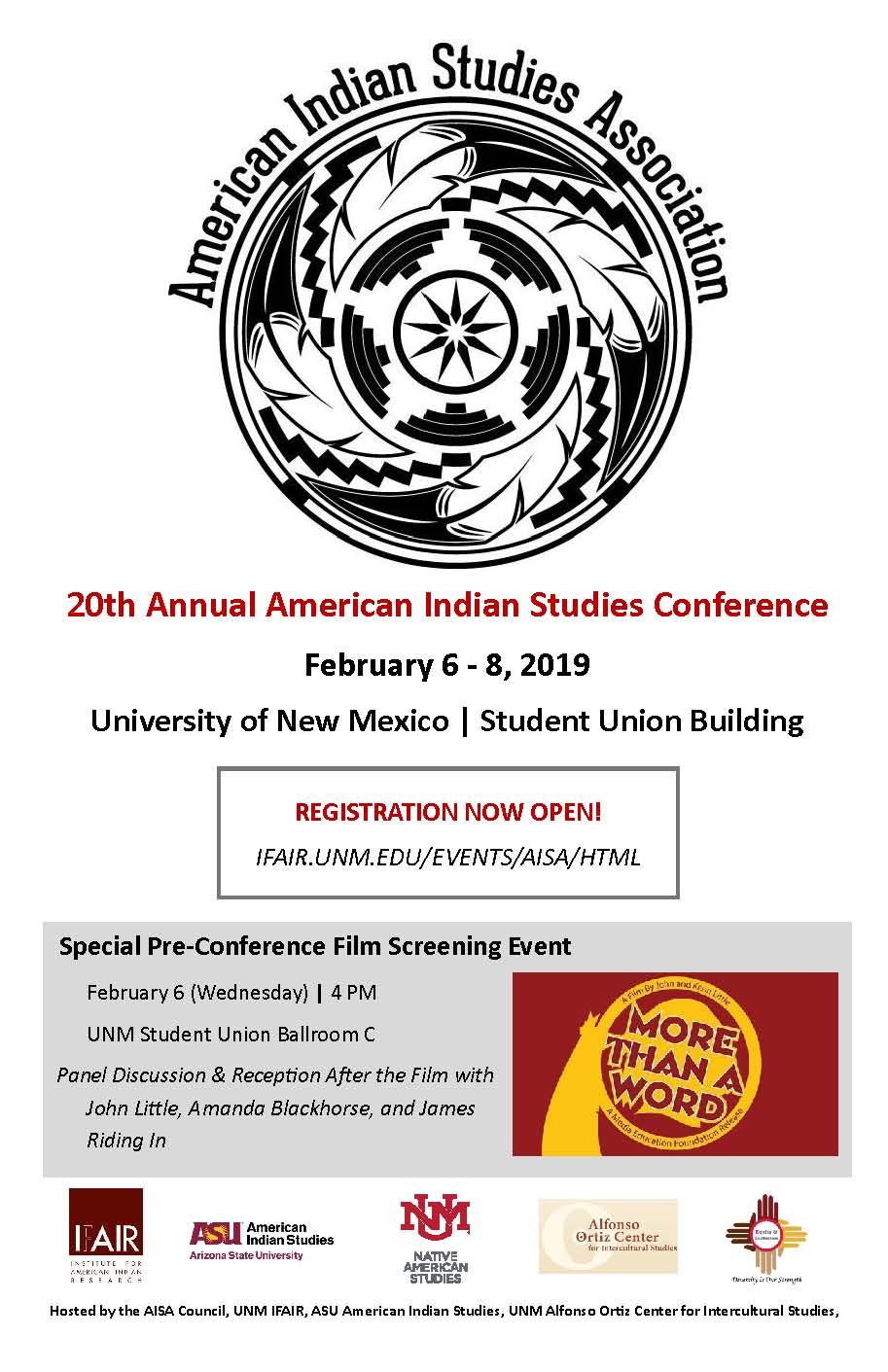 Start Date: Feb 06, 2019 - 12:00am
End Date: Feb 09, 2019 - 12:00am
Location: University of New Mexico
This year marks the 20th annual meeting of the American Indian Studies Association. Twenty years ago, Elizabeth Cook-Lynn wrote: "The challenge today is to remember that the focus of Native American Studies was in the beginning an attempt to create a mechanism in defense of the indigenous principles of sovereignty and nationhood."
Today, that challenge continues to define American Indian/Native American Studies and guide emerging scholarship from the discipline.
This conference looks to explore and initiate discussions and applications of indigenous sovereignty and nationhood. Topics include, but are not exclusive to language revitalization, cultural and ancestral knowledge, traditional and contemporary art, oral and written histories and literatures, land and the environment, governance, education and activism.
The Alfonso Ortiz Center has awarded funds to UNM's Institute for American Indian Research to support the participation of two community-based organizers and intellectuals at the 2019 American Indian Studies Association Conference it will host on UNM's main campus.
Lewis Grassrope, Kul Wicasa, Lower Brule Sioux tribe traditional leader, and Sarah Manning, Sisseton Wahpeton Oyate journalist and educator, will be participating in a discussion of the new volume Our Histories Are the Future by Nick Estes, Kul Wicasa, Lower Brule Sioux Tribe and assistant professor in the Native American Studies Department faculty.
There will be a special pre-conference film screening on February 6 at 4pm in the UNM Student Union Ballroom C. The screening will be followed by a panel discussion and reception with John Little, Amanda Blackhorse, and James Riding In.
Questions please contact: MajeI Boxer, Ph.D. (2018-2019 AISA President); boxer_m@fortlewis.edu
Conference registration: http://ifair.unm.edu/events/aisa.html