Kawaihae, Hawai'i Research
2018
Collaborating with the Kailapa Native Hawaiian Community Association for Resource Planning and Management, Kawaihae, South Kohala, Hawai'i Island
Dr. Michael Graves, professor of archaeology at the University of New Mexico, and Katherine Peck, UNM doctoral student in archaeology, are undertaking a collaborative research and planning project in the ahupua'a (traditional Hawaiian community territory) of Kawaihae 1 in South Kohala, Hawai'i Island. This collaborative project involves members of the Kailapa Community Association (KCA), a native Hawaiian homestead organization in South Kohala, Hawaii Island; the Department of Hawaiian Homelands (DHHL); and staff from the National Park Service (NPS) Ala Kahakai National Historic Trail Program, Hawai'i. Other participants include native Hawaiian students and faculty from the University of Hawai'i at Hilo and the University of Hawai'i at Mānoa. The KCA is a non-profit native Hawaiian homesteaders group that represents the claimants and landholders for the Kawaihae 1 ahupua'a. The DHHL is a state agency that administers all of the trust lands provided for native Hawaiians for housing and economic development.
Their archaeological research addresses questions pertaining to traditional Hawaiian agricultural practices and water control in Kawaihae 1 while providing information that the KCA can use in planning for their eventual management of this uplands area. The KCA has completed a Community Resilience Plan (Pupukahi I Holomua Kākou (United We Grow) that  envisions sustainable management of land and water resources within the more than 10,000 acres of Kawaihae 1. This would include areas for livestock, agricultural development, restored forests and woodlands, and stream and ground water management.
Graves and Peck's research provides KCA with information not only on the cultural resources in the uplands area but also on potential resources—stream water, previously installed but now abandoned irrigation ditches, water pipelines, locations where dryland agriculture was practiced, soil nutrient quality, and potential cultivated or native plants.
These latter—that might be restored, put into production, and made available to community members.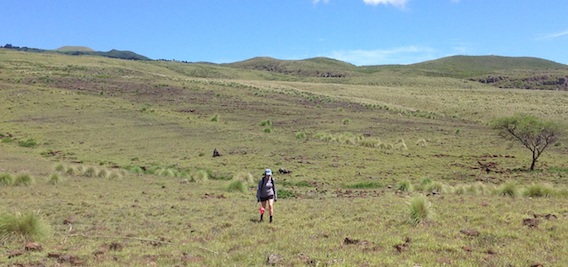 January 2019
As part of this larger project, the Ortiz Center funded Graves and Peck for a January 2019 research trip. During this successful field season, they stayed with the Director of the Kailapa Community Association, Diane Kanealii; took advantage of multiple opportunities to discuss mutual research goals with the Kailapa community; completed important fieldwork tasks of documenting irrigation ditches, mapping sections of the field system (to show other kinds of sites that were placed within the fields) in greater detail; and verified the Google Earth map that Peck previously compiled with on the ground data. Their work also included making a presentation at the annual meeting of the Kailapa Native Hawaiian Community Association, which resulted in an invitation to return for additional work.
Summer 2019
Ortiz Center funds helped with the vehicle rental towards the archaeological work we completed in July-August. This summer's work was very successful, adding to our understanding of the agricultural practices used by Hawaiians in the uplands of Kawaihae 1, on lands that the local Kailapa Hawaiian Homestead Community would eventually like to incorporate under their management. In addition to ground truthing the network of irrigation ditches that fed an area of dense agricultural features, we also documented a number of cultural sites, including ritual and habitation structures that were integrated into this cultural landscape. The picture of land use is coming into clearer focus with each visit to the area.

We were able to bring in several local individuals and colleagues to see the archaeological features where we are working. These included representatives from the National Park Service (Ala Kahakai, National Historic Trail program), Hawaii County Planning Department, Ulu Mau Puanui (a non-profit experimental program reintroducing sweet potato farms to Kohala), Hawaii State Parks, and the College of Tropical Agriculture and Human Resources from the University of Hawaii. We were also visited by archaeologists working in Hawaii from the University of Auckland and Southern Methodist University.

We have been talking with the Kailapa Hawaiian Homesteaders Association about additional projects we could jointly develop that would use our expertise to achieve their goals of creating a resilient and sustainable community. One proposal we have generated would be to document the historic trails that extend from the coast near Kawaihae to the uplands where we are working, as well as to other nearby locations. These trails were likely established before European contact and they continued to be used into the historic era. Remnants of the trails can be seen using remote sensing techniques. The Community Association is interested in the trails both to preserve them as part of their heritage but also to consider adaptive reuse of the trails. This is a project that could be done, in part, closer to the Community since trails began along the coast--one of the trails actually crosses the location where the Homesteaders live. We expect to have active involvement of the community in the design and scope of the final project.