Research
2018
Collaborating with the Kailapa Native Hawaiian Community Association for Resource Planning and Management, Kawaihae, South Kohala, Hawai'i Island
Dr. Michael Graves, professor of archaeology at the University of New Mexico, and Katherine Peck, UNM doctoral student in archaeology, are undertaking a collaborative research and planning project in the ahupua'a (traditional Hawaiian community territory) of Kawaihae 1 in South Kohala, Hawai'i Island. This collaborative project involves members of the Kailapa Community Association (KCA), a native Hawaiian homestead organization in South Kohala, Hawaii Island; the Department of Hawaiian Homelands (DHHL); and staff from the National Park Service (NPS) Ala Kahakai National Historic Trail Program, Hawai'i. Other participants include native Hawaiian students and faculty from the University of Hawai'i at Hilo and the University of Hawai'i at Mānoa. The KCA is a non-profit native Hawaiian homesteaders group that represents the claimants and landholders for the Kawaihae 1 ahupua'a. The DHHL is a state agency that administers all of the trust lands provided for native Hawaiians for housing and economic development.
Their archaeological research addresses questions pertaining to traditional Hawaiian agricultural practices and water control in Kawaihae 1 while providing information that the KCA can use in planning for their eventual management of this uplands area. The KCA has completed a Community Resilience Plan (Pupukahi I Holomua Kākou (United We Grow) that  envisions sustainable management of land and water resources within the more than 10,000 acres of Kawaihae 1. This would include areas for livestock, agricultural development, restored forests and woodlands, and stream and ground water management.
Graves and Peck's research provides KCA with information not only on the cultural resources in the uplands area but also on potential resources—stream water, previously installed but now abandoned irrigation ditches, water pipelines, locations where dryland agriculture was practiced, soil nutrient quality, and potential cultivated or native plants.
These latter—that might be restored, put into production, and made available to community members.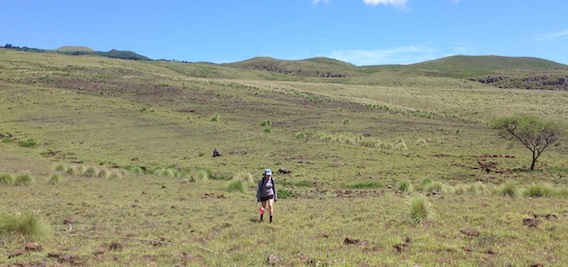 As part of this larger project, the Ortiz Center funded Graves and Peck for a January 2019 research trip. During this successful field season, they stayed with the Director of the Kailapa Community Association, Diane Kanealii; took advantage of multiple opportunities to discuss mutual research goals with the Kailapa community; completed important fieldwork tasks of documenting irrigation ditches, mapping sections of the field system (to show other kinds of sites that were placed within the fields) in greater detail; and verified the Google Earth map that Peck previously compiled with on the ground data. Their work also included making a presentation at the annual meeting of the Kailapa Native Hawaiian Community Association, which resulted in an invitation to return for additional work.
"Long Walk, A Navajo Epic Journey" by Lena Carr, Indian Summer Films
In June 2018, the Ortiz Center awarded funds to Navajo filmmaker Lena Carr for research on her new film, "Long Walk, A Navajo Epic Journey."
From 1863 to 1868 the United States waged war on the Navajo people. Thousands of Navajo men, women, and children were marched, on foot, by the United States Army, 400 miles across Arizona and New Mexico. They were destined to be incarcerated at Bosque Redondo, Fort Sumner, New Mexico. Beginning in 1863, Brigadier General James H. Carleton commanded Colonel Christopher "Kit" Carson to force the Navajo surrender and relocate them far from their homeland to a "reservation" in Fort Sumner. When the Navajos refused to surrender, Carson ordered a "scorched-earth" campaign against them. Thus, Navajo homes, crops, and orchards were torched; water holes and livestock were also destroyed. He further ordered that Navajo males be killed and women and children taken prisoners. At the campaign's end in early January 1864, 11,500 captive men, women, and children were marched to exile. Thousands of Navajo people died on the walk and while imprisoned there.
"Long Walk, A Navajo Epic Journey" is a one hour film documentary for public television.
For the first time, descendants of Navajo "prisoners-of-war" have agreed to speak candidly on camera about their Long Walk experiences. The film will feature eight contemporary Navajo descendants of the prisoners of war who share their own unique perspectives, historical accounts, experiences, and stories handed down to them by their ancestors who made the Long Walk. Also assembled are a group of scholars, advisors, both Native American and non-Native American, to provide commentary and background for the historical narratives. The program creatively uses previously undiscovered archival material, diaries, photographs, letters, and newspaper articles, to enable viewers to share in the stark emotions of that time.
"Long Walk, A Navajo Epic Journey" is a work-in-progress.
Lena Carr, Emmy Award Winner, is Navajo Film Producer, Director, Writer.
2017
Alfonso Ortiz Center Website Update
The Alfonso Ortiz Center for Intercultural Studies announces the creation of its new website, built with the help of the 2017-2018 Ortiz Fellow, Holly Brause, as part of the public anthropology focus of the Fellowship program. Expanding the visibility of the Ortiz Center will facilitate the Center's mission of promoting collaboration across the UNM campus and with the surrounding community, while sharing the results of such collaboration publicly so that the benefits extend beyond campus.
For more information, click here to view Holly's poster presentation on the website from the 2018 UNM Anthropology Graduate Student Conference.
2014
Award-Winning Graduate Student Papers on Technology and Knowledge Production
Wednesday, April 9, 2014
3-5pm
SUB 3rd Floor, Lobo A/B
"Contesting #whitegirlsrock: Exploring Acts of Conflict Engagement on Twitter as Resistance"
Erin Watley, Communications & Journalism
The goal of this exploratory paper is to take on a critical cultural approach and explore how the micro-blogging site Twitter can be seen as a tool for resistance against racial neoliberalism, which presents as a post-racial way of thinking by looking at the Twitter interactions around #blackgirlsrock and #whitegirlsrock, two conversations that began trending during the Black Girls Rock awards show on BET.  The #whitegirlsrock conversation seemed to start as a statement and response to #blackgirlsrock, lamenting that the focus of the show should just be just on generic 'girls' and that any focus on white girls would be labeled racist.  What is unique about this study is that I will be looking at the ways that the mechanics of Twitter lend themselves to being tools for engaging conflict.
Karuna Collective- Cycle of Life
Jake Foreman, Community and Regional Planning
The Karuna Colectiva is a lifestyle production enterprise whose main activities are promoting communication and dialogue around ways to live consciously and support one another. We use diverse channels of communication from social media, sign creation and t-shirt design to promote our mission of community resiliency through increased local internal capacity. We specialize in creating wearable art and accessories that promote resiliency and local capacity. We are a member-operated business that specializes in diffusing innovations in the way that we think, learn and relate to each other and the world around us.
The "Sharing" of Nationality?: The Refracting of Ukraine Through Multiple Media/Technological Fora
Olga Glinskii, Anthropology
Over the past five months, the socio-political turmoil and transformations in Ukraine have gathered considerable transnational attention. Invariably, the processes involved in the dissemination of information are accompanied by the proliferation of politically-interested deployments of various technologies of knowledge production. This paper draws from media representations, news coverage, documentary films and social media technologies, as meaning-making apparatus involved in the sometimes shared, and sometimes contested representations of the ongoing crisis in Ukraine for a transnational audience.
2013
The Alfonso Ortiz Center for Intercultural Studies awarded $500 to three graduate students selected to present their research papers on Climate Change at a special panel held during the Annual AGSU Meeting in April, 2013. We congratulate the following students:
Valorie Aquino. Building Higher Resolution Chronologies for Paired Culture-Climate Investigations: A Case Study from Uxbenká, a Classic Maya Polity in the Eastern Lowlands of Belize. (Anthropology)
Nicholas Jarman. Meeting the Challenges and Opportunities of Climate Change: A Case Study from Ice Patch Archaeology. (Anthropology)
Edward Merta. A Climate Gridlock: Climate Change Adaptation, Federalism, and Expansion of the National Electric Transmission Grid. (Law)